Frequently Asked Questions
General
What is a click ,halo or sit solid tire?
The names associated with the solid tire means that the tire has a lock ring built onto the base of the tire. As you can see by the pictures the tire fits behind the lip of the tire when pressing and you don't see either a single or two piece lock ring. If the unit comes in with the sit style tires and there are none available when the tires need to be replaced, simply buy lock rings and replace with the standard tire.
I have a cushion truck. Can I use it outside?
Cushion trucks are made for warehouse and driveway use only. If you use a cushion forklift on rocks, grass, and dirt, chances are likely that you will get stuck. The only option is to go wider on the front tire but the additional cost will not result in additional flotation.
Can I put pneumatic tires on a cushion truck?
There are very few models of cushion trucks that are able to be changed from press-on tire to pneumatic tire. If you can change to pneumatic, you have will an additional cost for new wheels.
Why would I use polyurethane tires?
Polyurethane tires outlast rubber tires about two to one. The poly tire is designed for warehouse use only. Taking them on the driveway will result in rapid or premature tire failure. The carrying capacity of a poly tire is more than the rubber tire. Most electric lifts require poly because of the additional weight of the batteries used to power the lift. Poly tires will also help the batteries to last longer as they have lower rolling resistance. The biggest disadvantage is that they are made of a harder compound making the ride harsh.
Can I put a solid tire on a pneumatic tire truck?
If you have split-wheel or lock-ring type wheels, you should be able to replace the air tire with a solid tire. Any drop center wheel will not accept a solid tire. Drop center is a wheel similar to a car wheel. You can go from air to solid or vice-versa as you like.
Where can I find the tire size?
The tire size will be on the sidewall of the tire. If the tire size has worn off, you can look on the inside sidewall. Have someone operate the forklift and raise the forks above your head. Drive the forklift slowly and observe the tire on the opposite side and check for the tire size. If this doesn't work, back the forklift slowly, turning the wheels to a 45 degree angle and inspect the inside for the tire size. If all fails, obtain the model, serial, and make of the forklift.
How much air pressure should I use in my tire?
The required air pressure is located on the sidewall of the tire. If it is not there, contact us for further assistance.
Golf Tires to Solid Tires?
For golf carts used in plant operations, you can switch the wheels and tires for solids. The cost is inexpensive since the solid tires will last three times longer than foam fill.
What press-on tire provides maximum traction?
ITL (Maxmatic) and Trelleborg tire (Monogrip Wide) both make a press-on tire which has a larger footprint than a standard tire. The tire, instead of having an oval design, is completely flat and designed to give maximum traction for wet surfaces. Other options to improve traction are wire impregnated tires and a tire called the nut tire.  The nut tire has walnut shells ground and mixed into the rubber for good traction.
Do they make non-marking grader tires?
The 1300 x 24 grader tires used on Lulls, Skytrax, and Gradall are made in non-marking pneumatic.  At the present, there are very few manufacturers and shortages are an issue.
Do they make non-marking pneumatic skid steer tires?
The 10-16.5 and 12-16.5 tires do come in non-marking tires.  See our Specialty Tires section for pictures.
Do they make non-marking solid skid steer tires?
The ITL Solid Flex tire does come in non-marking, but it is a special order item.
Are all solid skid steer tires the same?
Check the height, width, and weight of the tire and don't rely on price to determine the best deal. Cost can be cut dramatically by reducing any of these factors.
Can I put rubber tire on an electric lift?
Rubber tires will work on electric sit-down units without problems, however we do not recommend using rubber tires on stand-up units. The weight of the battery as well as the forklift put too much strain on the rubber tires causing failure.
How do I get more traction in a freezer application?
You can have the tires diamond-siped or have different designs siped into the tire. This will allow water to be pushed out through the sides giving you traction.
Why do I have metric sizes on my press-on tires?
Some tires that are manufactured overseas will have three sets of numbers: (457x152x208), and that can be converted to US standards (18x6x12 1/8).
What is a mobile tire press?
A mobile tire press is a tire press that is mounted on a truck or trailer, which can then come to your location and service your equipment on the spot.
Why are some solid pneumatic tires wider than others?
Some solid pneumatic tires are now being made in wide profile (WP). There is a noticeable difference in the tread width, as well as the price.
Installation
How to put a taper on a bare wheel?
Can I install a solid tire?
Solid tires require a tire press, specialty stands, and cages to press the tires.
Can I re-press a press-on tire?
Yes, and the majority of the time you will not have any problem. When pressing the old tire, make sure pressure is building on the gauge to assure that the tire is going on the wheel tightly.
Can I re-press a solid pneumatic tire?
Yes, and again the tires should go on tightly on the wheel. Most damage occurs when pressing the solid tire off of the damaged wheel. An inspection of the base of the tire will determine if it can be pressed again.
Should I run my press-on tire all the way to the metal band?
No, the shock to the machine plus the wear and tear on the machine will not be offset by trying to save money on tire replacement.
Can all forklift tires be mounted on the field?
No, not all solid and press on tires can be mounted in the field. The mobile press has height and width limitations. The larger forklift tires will have to be brought in and mounted on a large stationary press.
Services
What type of warranty does my tire come with?
Bird Tire guarantees all of our tires against defects in material and workmanship. Bird Tire reserves the right to inspect and investigate any tire considered to be defective. If a tire proves to be defective, Bird Tire has the option to replace the tire or may issue a credit. All freight and service costs will be borne exclusively by the claimant. This guarantee is the the exclusive benefit of the user and is not assignable.
What is a Prefill Tire Assembly?
The Prefill tire assembly is an alternative to foam fill.  The assembly of tire and core are pressed on like a solid tire but it allows for no downtime like foam fill tires.
When do I replace a cushion tire?
Most cushion tires will have a safety bar on the sidewall to show when they will need replacing.  A general rule of thumb for all others is to replace when the wear reaches the top of the imprint of the size of the tire.   The reason being is that once the tread reaches that point, 50 percent of the carrying capacity is lost.   For cushion trucks, the tire is the only shock absorber on the truck.  For solid pneumatic tires, that is when all the tread is gone and the tires are completely smooth.
When do you change solid and press on tires?
First, please note that any "tire's rated load carrying capacity and other physical properties" refer to new tires only.  As the tire wears, theoretically it can no longer perform as when the tire was new.
It is not uncommon for a worn tire to begin to do some strange things, in both performance/ride and appearance.  This is normal and does not indicate a warrantable defect in materials or workmanship.  However, the question remains: how do we know when tires need to be replaced? Or when has a tire finally worn out and now poses either a potential safety hazard or is causing performance problems?
The following chart shows the approximate diameters (in inches) at which the tire should be replaced due to tread wear (past its useful service life).
| | | |
| --- | --- | --- |
| Cushion Tires | Approximate New Tire OD | Recommended Replacement OD |
| 14 x 4 1/2 x 8 | 14 | 12 1/2 |
| 16 x 5/6 x 10 1/2 | 16 | 14 1/2 |
| 16 1/4 x 5/6 x 11 1/4 | 16 1/4 | 14 3/4 |
| 18 x 6/7/8/9 x 12 1/8 | 18 | 16 1/2 |
| 21 x 7/8 x 15 | 21 | 19 1/2 |
| 22 x 8/9/10/12 x 16 | 22 | 20 1/2 |
| 28 x 12 x 22 | 28 | 26 1/2 |
| | | |
| --- | --- | --- |
| Solid Pneumatic Resilient Tires | Approximate New Tire OD | Recommended Replacement OD |
| 600 x 9 | 21 | 19 |
| 700 x 12 | 26 | 24 |
| 700 x 15 | 29 | 27 |
| 750 x 15 | 30 | 28 |
| 825 x 15 | 33 | 31 |
| 28 x 9-15 (815 x 15) | 28 | 26 |
| 250 x 15 | 29 | 27 |
Please note that this is only a wear guideline.  Different tire brands, models and tread patterns may have distinct specifications for outside diameter and width.  If tires are allowed to wear too far, then performance and safety issues may arise, along with the risk of unnecessary damage to the machine.
Damage
What causes dents to my forklift wheel?
The tire has received a severe impact and and the wheel may be damaged also. The damage is so bad that the tire may have to be cut off in order to save the wheel.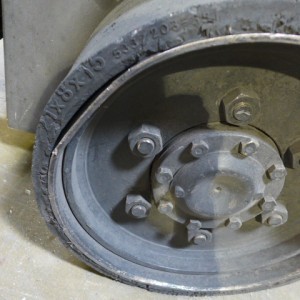 What cause's cracks in the sidewall of tires?
As you can see by the picture cracks have appeared in the sidewall of the tires. These are radial cracks which occur because of overloading of the forklift and the sidewall begins to break down. This is not a defect in the tire and will there is no warranty.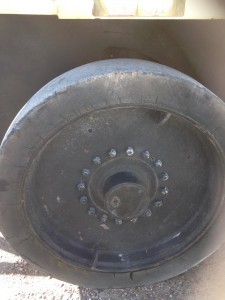 What may cause damage to a tire when pressing?
As you can see by the picture damage has been done to the side of the new tire. When pressing the wheel it  should be laid flat on the press and the new tire put on top of the tapered side of the wheel. Once you get the tire down about 40 % of the way you will need to put a flat plate on top of the tire and continue to press. If you decide to use another tire to push the first tire down it may result in damage to the first tire . The damage occurs when the press builds pressure and pops and the two tires are no longer lined up . That is what you see in the picture.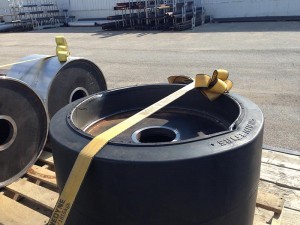 Ramps that cause premature tire failure.
Metal ramps that have metal teeth will result in damage to the tire either going up the ramp are down it. Best to use a smooth tire than a traction tread. With the traction tread it will grab more and rip the lugs off. There will be no warranty from any manufacture on the tire as this is not a defective tire.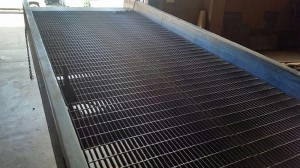 What will happen when you cut or slice a foam fill tire?
This is what happens when a foam fill tire either gets cut or impacts something. With the weight of the machine as well as the fill and if the cut is deep enough or cut at the right angle on the ply it will begin to spread and rip farther apart and the fill will begin to bulge out. The material by the picture is fully cured and not in a liquid state. We have seen times when the cut has no effect and will not spread any farther than the original slice and will run until the tire is completely worn out. This is something that can happen and the cut may have been worse than it appeared. The only way to keep this from possibly happening in the future is to go with solid tires.
Why do Press-On tires fail?
Heat build-up
Heat build-up is the most common reason for rubber press-on tire failure and is caused by a variety of environmental factors (alone or in combination). Through friction and other factors, all tires naturally build-up heat during operation. Overheating occurs when the tire has reached a point where the rubber compounds begin to breakdown and/or the bond between the rubber and the steel base band is damaged. A tire's physical properties are only rated for operations under normal conditions and temperatures. An overheated tire simply cannot do the same job as a tire that is operating within acceptable parameters and temperature ranges.
Prior to the introduction of the infrared digital thermometer, we checked the heat buildup of a forklift tire by simply stopping a forklift mid-shift and carefully putting your hand close to/or on the hub(s). Anything more than mildly warm to the touch (over 150 degrees Fahrenheit) indicated an application where heat build-up may be a problem. For every application (including those with a heat build-up problem), it is always useful to establish a benchmark for tire performance (in hours) to make better recommendations and help minimize the customer's overall cost per hour, and to help determine whether or not a tire problem exists. There is a variety of premium, problem solving tire compounds available that could minimize your customer's overall cost per hour.
Application-Based Causes
Speed
Multi-shift operation
Obstacles/debris on floor (i.e., dock plates, steel, skids, banding etc.)
Floors: rough, uneven or in poor condition (tracks or rails, expansion joints, holes, etc.)
Continuous operation (short or no rest times)
Length of run
Tight cornering
Heavy loads – drive tires
Light or empty loads – steer tires
Forklift attachments
Operator abuse – using emergency brakes when not needed
Ambient temperature
Chemical contamination (exposure to oils or solvents)
Manufacturing Defects
Contamination of baseband – separation
Pre-cure – chunking
Bad batch of pre-mixed rubber (excess moisture, etc.)
Reverting
Other
Tire pressed crooked during installation
Wheel/hub or bearing problems
Kingpin problems (steer axle)
Tires not replaced in pairs
Improper brake adjustment
What typically causes tire failure?
If there is an actual manufacturing defect with the tire, most problems will occur within the first 45 days of purchase.  Problems that occur in longer periods of time are normally due to equipment misuse. Most problems include rapid starts and stops of the forklift, shoving material instead of picking it up, or overloading, and long runs with the wrong compound of tires, and throwing the transmission into forward and reverse before stopping the lift.
What do I do if the lockring comes off of my solid forklift tire?
The lockring can be pressed back onto the wheel as long as the lockring wasn't damaged or sprung.
Why do my lockring wheels have no lockring now?
Some solid pneumatic tires are now made built right into the tire and lockrings are no longer necessary. Extra caution must be used so not to damage the base of the tire while pressing. These types include Click Tires, Quickbase, Sit, Halo, and Limpent.
What caused damage to a solid tire when pressing
When pressing a solid tire, there are three things that need to be done. The base of the tire must be lubricated, a starter cone must be used, as well as the proper cage to do the job. If not done the result will be damage to the base and the tire. There is no warranty on this type of damage to a tire from the manufacturer. It doesn't matter if it is the cheapest tire or the most expensive tire on the market .You may get away with it for several tires by not using the proper equipment, but you will eventually ruin a tire.
Forklifts
How much Zinc is in Forklift Tires?
All rubber tires have some zinc content, includes auto, truck, bus, motorcycle, and OTR tires. Zinc oxide is used as an ingredient in the rubber recipe and is a portion of the cure package.
Zinc oxide activates sulfur cross linking of rubber and thus is key to having an efficient curing cycle. Trelleborg Group has over the past years placed an emphasis on reducing the amount of zinc in our products as we strive to be environmentally friendly.
While our compounds have low zinc content, it is a necessary ingredient and. it is not technically feasible to completely remove it from our products.
Average industrial standard for the black press on band style tires will be around 2.1%. The non marking tires levels is be around 3.4 %. Trying to cut the Zinc level during the manufacturing will result in premature tire failure.
What is the difference between European and American forklift tire sizes?
| | |
| --- | --- |
| Metric (European) | Standard (American) |
| 125/75-8 | 15 x 4 1/2 x 8 |
| 150/75-8 | 16 x 6-8 |
| 180/70-8 | 18 x 7 x 8 |
| 140/55-9 | 140/55.9 |
| 200/75-9 | 21 x 8-9 |
| 225/75-10 | 23 x 9-10 |
| 250/60-12 | 23 x 10-12 |
| 250/75-15 | 27 x 10-12 |
| 225/75-15 | 28 x 9-15 / 8.15 x 15 |
| 250/70-15 | 250-15 |
| 315/70-15 | 300-15 |
| 355/45-15 | 28 x 12.5 x 15 / 28 x 12 x 15 / 28 x 12.1 x 15 |
| 355/65-15 | 350-15 |
Why do some smooth forklift tires sometimes have a groove?
Grooved tires work well on larger capacity forklifts where loads and operating conditions are extreme. The purpose of the grooves is to release heat in order to prevent tire failure.
Can I use truck tires instead of forklift tires?
Truck tires are made for over-the-road commercial trucks and forklift tires are made and designed for forklifts. Installation of truck tires are not approved by OSHA. There is a difference in the design for a reason. Although they will fit on the forklift wheel, truck tires are not made for material handling purposes. No forklift manufacturers approve of using truck tires on a forklift.
Should I use smooth or traction tires on my forklift?
Smooth tires give better traction on dry surfaces and can give you more rubber for the dollar spent.  If you have moisture problems, the traction tire is the better fit.  The front of the forklift (drive) does all the pulling and the back (steer) axle is nothing more than a free wheeling tire.  The steer can use smooth or traction as it makes no difference.
What are non-marking forklift tires?
Non-marking tires are made to eliminate black marks on the floors.  Grocery or food processing plants are required to use them.  The biggest disadvantage to non-marking tires is that the carbon black is removed which results in a shorter lifespan of the tire.  The use of the non-marking tire in certain climates may require you to use an anti-static strip on the forklift as the tire is prone to cause static electricity.  Non-marking tires are available in both solid, pneumatic, and cushion.  The colors of the tires may vary from manufacturer to manufacturer but most have gray, white, off-white, and black.
What is a cushion tire forklift?
A cushion tire forklift uses a press-on tire that is made with a metal band and a rubber attached to it.  A solid pneumatic forklift has tires that are shaped like air tires.
What about running solid and air tires on the same forklift?
You can move solid tires to the front of the lift and air to the back or air to the front and solid tires to the back.  You must run the same type of tire on the opposite sides, drive and steer axles.
What should I do if I have duals on the front of the lift and want to mix tires?
All tires should be solid, air, or fill.  If you put solid tires inside or outside on duals with other tires, there will be a problem.  Solid tires will not deflect as much as an air tire or fill tire.  The end result will be that a solid tire will carry a majority of the weight and be the first to break down and have problems.
Why are my solid forklift tires spinning on the wheels?
Most reasons for spinning are covered in the tire failure section, however, one way to help stop some of the spinning is to make sure that the solid pneumatic tires you are buying have wire beads in the base to eliminate spinning.   The wire beads are built into the tire base and when pressing, they expand as they go onto the wheel and after pressing they snap into place and tighten the bond between wheel and tire.  If the tires have been spinning for a long time, it may be necessary to replace both the tire and the wheel
Do I have wheels or rims on my forklift?
Forklift wheel types consist of a "split" (two halves bolted together).  Dayton rims have a lockring and no stud holes.  Budd wheels have lockrings and 10 holes for studs.  Most split wheels do not interchange with other makes of forklifts.  The difference is that the stud holes and the center holes cannot be aligned.
Why do forklift wheels have a beveled side?
The side is beveled to give you a place to start, and when pressing you won't dig into the metal base band.
What about solid tires made with holes?
The holes in the sidewalls are made to provide a softer ride than standard solids.   The main problem with the holes is that it diminishes the carrying capacity.
What are my options for pneumatic tires?
The options for air tires are either bias or radial.   Bias and radial tires usually have a good, better, and best option.  You should look for weight, tread depth, and good sidewall protection.  Radial tires cost more but they last longer and provide additional puncture resistance.   Continental and Michelin are the leaders in the radial tire business.
How long will a solid forklift tire last?
Most solid tires will outlast an air tire anywhere from 2 or 3 sets of air tires to 1 set of solid tires.
What if I need flotation on my forklift?
Replacement for standard tires on the forklift:
7.00 x 12…to.28 x 12-15
8.25 x 15…to.32 x 12-15
The height of the tire will remain the same but you will double the width of the tire.   If you go from a 7.00 x 12 to a 28 x 12-15 tire, you will also need to replace the wheels.
Foam Fill Tires
The foam fill is a liquid polyurethane material that is pumped into a tubeless or tube type tire.  The material goes into the valve stem on the older style pumps and through the sidewalls on the newer pumps.  The foam fill is a two-part material consisting of  an A-side and B-side.  When the two sides are pumped into the tire, the material mixes and cures out for 24-48 hours depending on the outdoor temperature.  The curing process can be sped up in the wintertime by preheating the fill and keeping the tires warm after being pumped.  Air is released during the filling process by drilling a hole through the top of the tire.  Once all of the air has escaped, the tire will be plugged and then pressurized.  The cost of a pump alone is approximately $8,000 for the older model and $48,000 for the newer or current model.
How does a foam fill tire ride?
A foam fill tire rides almost identical to an air tire.  Most people would not recognize the difference unless they were told.
What about the weight of a foam fill tire?
Adding fill is the same as having the tire water-filled.
Can I foam fill an ATV tire?
No, it is not recommended because of the weight and handling characteristics.
Can I reuse a previously filled wheel?
Yes, the wheel can be reused as long as the wheel has no cracks, damaged stud holes, or any severe damage.
How fast can I travel with a foam fill tire?
They are designed to travel 15 mph or slower.
How long will a foam-fill tire last?
The tire will last as long as the casing remains good.  The purpose of fill is to stop flats and keep constant pressure.  If you get 12 months out of a tire, you will get 12 months out of a filled tire.
Should I use a solid tire or foam-fill tire?
In some cases there is no solid tire made to take the place of a foam-fill tire.  Foam-fill tires can be used with lock ring or drop center wheels while solid tires must have a flat based wheel to be pressed on.  Always check ground conditions.  Additional maintenance problems may occur with solids (e.g.   motor mounts,  steer axle) when deciding to use solid forklift tires.
Can I foam fill a tire with cuts, slices, and plugs in it?
If the cuts are not too large, you can fill the tire without any problems. If cuts are too large upon filling the tire, there is a chance that the tire will fail and the fill will leak. If the tire has only a few small plugs, it is okay to fill it; however, if the tire has several plugs, than a tube may have to be placed in the tire.
What happens if I place a foam fill tire on the lift before it's cured?
Once the machine sits for an extended period of time, a flat spot will develop in the tire.
My forklift tires are used. Can I fill them?
The general rule-of-thumb is if the tire contains at least 80% of its tread left, then you will continue to get your money's worth out of the tire and fill.
Does foam filling a tire increase its carrying capacity?
No, it doesn't. The tire's carrying capacity will remain the same according the manufacturer's specifications..
---
Don't see your question?